Shopping Cart
Your Cart is Empty
There was an error with PayPal
Click here to try again
Thank you for your business!
You should be receiving an order confirmation from Paypal shortly.
Exit Shopping Cart
Clear View Worship Center
Fulfillig the Great Commission by Keeping the Love Commandments
To all who seek a Clear View of Christ and to all who do not--but ought, in the name of Jesus Christ our Lord, Welcome to the House of God!
Clear View is committed to serving God by serving our fellow man. As such, the Lord generates many community service opportunities through Clear View ministries. For example, our Birth Month teams are small group ministries that provide important personal and spiritual services to individuals and families in our communities. By following biblical examples and principles of the ServantLeader, we offer help and support to anyone who aspires to grow in the grace and knowledge of our Lord Jesus Christ. Divinity teaches humanity to live the abundant, joyous and peaceful life. That lifeis not about the accumulation of things. It is about love and righteous living. Sooo...
Wherever you are on your spiritual journey, at Clear View you will find a friendly supportive community of believers and a wealth of opportunities for personal development and spiritual growth.
We aspire to strengthen faith and joy in Jesus Christ in the life of everyone who assembles with us. In fact, Clear View ministries will help you develop your whole person--mind, body, soul and spirit. Also, Clear View ministries will enhance your ability to develop and nurture good, positive interpersonal relationships through spiritual growth, prayer, Holy Bible knowledge, praise and worship, and active participation in church and community activities.
You're invited to worship God with us if you live nearby. Come & see: go & tell. If you do not live nearby, pray about becoming an active financial partner, a Golden Eagle Ministry Supporter (GEM$). GEM$ help support free ministry specific Bible classes for members and friends in our community. All we ask is that enrollees commit to attendance and participation standards. Certificates of Completion are earned in these informative classes.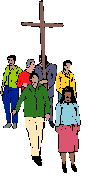 The Holy Scriptures teach us that life does not consist in the abundance of things that a person possesses. On the contrary, abundant life is much more than stuff and things. It is the powerful, Holy Spirit-filled, personification of Jesus as our Christ, Chief Shepherd and personal Director. GEM$ gifts support the spiritual plowing, sowing, nurture, harvest and reduplication of God's good seeds of righteousness in the good soul soil of the citizens of our Lord's heavenly kingdom.
Just pray about it and do what God has to say about it. Glory! Hallelujah!!
Until next time, enjoy our site. Read it again and again and again. May the precious love, peace, and provisions of the only True and living God refresh and keep you today and always. May the Lord God bless and keep you 'til we meet again.
Thank you for your prayers and concern for the upward calling.
We hope to see you soon....
/